What is the national dish of Palestine
Palestinian cuisine: offer of friendship on the plate
"Eating together doesn't just mean sharing a meal: it means sharing time, space, ideas and stories," writes the author duo Sami Tamimi and Tara Wigley about their book "Palestine: The Cookbook". Perhaps hummus can actually have a positive effect on the peace process in the Middle East - it is definitely worth a try, high time anyway. Because that's what the Palestinian cuisine is made for: For round tables with friends and those who can become one.
A treat for the palate in a class of its own
The cookbook presents over 110 recipes, traditional and modern interpreted, from the rich cuisine of Palestine, which plays virtuously with flavors such as cumin and sumac, lemon and garlic, coriander, chilli and cardamom.
The recipes are rather demanding - the preparation of kubbeh, filled minced meat bulgur balls, or a chicken shawarma pie in wafer-thin filo dough are a challenge even for experienced cooks. And for guests a treat for the palate in a class of its own.
You can also tell that both Sara Wigley and Sami Tamimi are long-time companions and friends of the famous chef and bestselling author Yotam Ottolenghi - the quality of the recipes is beyond any doubt. And because Sami is a Palestinian with all his heart, he grants the reader an insight into his torn country in sensitive portraits by local producers without spoiling his book with lazy morals.
Cod with coriander crust
For 4 people
60 ml of olive oil
4 cloves of garlic, crushed
50 g coriander leaves, finely chopped
2½ tsp spice mixture (see below)
½ teaspoon chilli flakes
4 large cod loins with skin, approx. 700 g (or another white-fleshed fish)
4 fresh large bay leaves
2 organic lemons, one cut into 8 very thin slices, the other into 4 wedges for serving
Salt, black pepper from the mill
Spice mix
2 teaspoons cardamom, ground
2 teaspoons ground cumin
1 teaspoon paprika powder
2 teaspoons turmeric, ground
Mix all ingredients well for the spice mixture. It will keep for about a month in a tightly sealable container.
Preheat the oven to 250 degrees. In a small pan, heat 2 tablespoons of oil over medium-low heat. Sweat the garlic in it for 10 seconds, then add the coriander greens, spice mixture, chilli flakes, ¼ teaspoon salt and a little pepper.
Cook, stirring frequently, for 4 to 5 minutes, until the garlic is really soft. Take the pan off the stove. Place the cod pieces skin side down in an ovenproof dish lined with baking paper. Season with the remaining oil and a little salt and pepper.
Pour the garlic mixture on top of the fish and distribute it so that the entire top is covered. Then put a bay leaf and two lemon wedges on each fillet. Bake the cod in the preheated oven for 7 to 8 minutes, until the pieces are cooked through. Serve immediately with the lemon wedges.
My advice
The fish lovers among my guests regretted that the intense spices and lemon didn't give the cod a chance to taste its own. For her next time I would only use half the amount of spice mixture.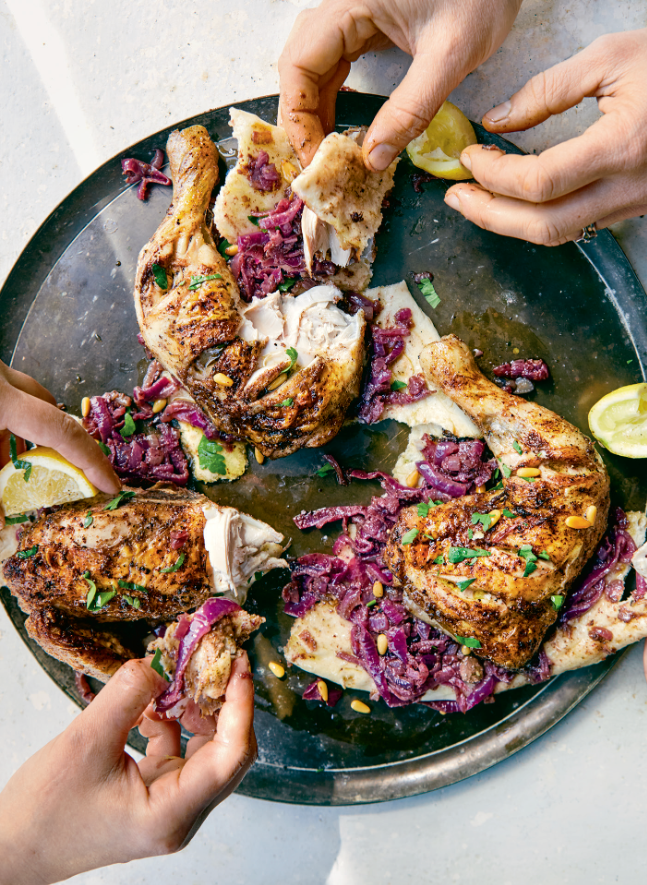 Chicken Musakhan
For 4 people
Musakhan is the national dish of Palestine: you drizzle some lemon over it and repeatedly pluck a piece of chicken by hand, clamp it in a piece of pita bread and spoon it over it.
1 chicken (about 1.7 kg), divided into 4 pieces
120 ml olive oil, plus 2-3 teaspoons to drizzle over
1 tbsp ground cumin
3 tbsp sumac, ground
½ teaspoon cinnamon, ground
½ teaspoon allspice, ground
30 g pine nuts
3 large red onions, cut into 2-3 mm thick rings (500 g)
4 pita or flat breads (approx. 350 g)
2 tbsp flat-leaf parsley, roughly chopped
Salt, black pepper from the mill
For serving
300 g Greek yogurt
1 lemon, cut into wedges
Preheat the oven to 200 degrees circulating air. Put the chicken pieces with 2 tablespoons of oil, 1 teaspoon of cumin, 1½ teaspoons of sumac, cinnamon, allspice, 1 teaspoon of salt and plenty of pepper in a large bowl. Fold through well, then spread on a baking sheet lined with baking paper. Roast in the hot oven until the meat is cooked through - this takes about 45 minutes. Then take it out and set it aside. Save any liquid that has collected on the tray.
In a large frying pan with a high rim, heat 2 tablespoons of oil over medium temperature. Roast the pine nuts in it, stirring constantly, for 2 to 3 minutes until they are golden brown. Transfer to a bowl lined with kitchen paper (the oil stays in the pan) and set aside. Add the rest of the oil with the onion rings and ¾ teaspoon of salt to the pan. Fry the onions over medium heat for about 15 minutes, until they are very soft and lightly browned, but not caramelized; stirring occasionally. Add 2 tablespoons of sumac, remaining cumin and a little pepper and mix everything well until the onion rings are completely coated with the spices. Remove from the stove and set aside.
Turn on the grill just before serving. Cut or tear bread into quarters or sixths. Let it get crispy under the grill for about 2 to 3 minutes, then arrange on a large platter.
First put half of the onions on top, then all of the chicken parts and the liquid from the baking tray. Either leave the poultry pieces whole or divide them into two or three large pieces, pour the remaining onions over them. Then pour the pine nuts, parsley and the rest of the sumac over the top and drizzle with olive oil. Serve immediately with yogurt and lemon wedges.
My tips
Great finger food for an evening with friends! We needed a little more bread than advertised.
The 300 grams of yogurt as a topping are very generous - the rest was enough for a large Bircher muesli the next morning. 100 grams is enough in my opinion.
The pictures and recipes come from the book "Palestine: The Cookbook".
Sami Tamimi, Tara Wigley: Palestine. The cookbook. Verlag Dorling Kindersley, 2020, 352 pages, approx. 42 Fr.