Which vegetables should be eaten with chapati?
Chapati is an Ayurvedic type of bread. In Ayurveda, chapatis are eaten as an accompaniment to soups or vegetables.
Ingredients for 4 persons:
100 g spelled flour
200 g of wheat flour
approx. 280 ml of water
1 teaspoon spice, e.g. mixed with coriander, cumin, turmeric
1 teaspoon salt
Mix the flour with the salt and the spices. Add the water slowly (depending on the type of flour you may need less or more water) and knead everything into a smooth, soft dough. Knead the dough a little longer so that air gets into the dough. Then cover with a damp cloth and let rest for 20 minutes.
Shape the dough into plum-sized balls without cracks, press flat by hand and roll out 1-2 mm thin. Then let it rest for a few minutes.
Heat a coated pan without fat, place a flat sheet of dough in it and turn it as soon as the first bubbles form. When both sides are baked, turn again and wait for the flatbread to start puffing up. Then the flatbread has to be cooked inside; the flatbread should be turned over and over again.
For the chapati in the picture above, I used wholemeal spelled flour and spelled flour, which makes them darker and firmer. I will do it again next time as directed in the recipe.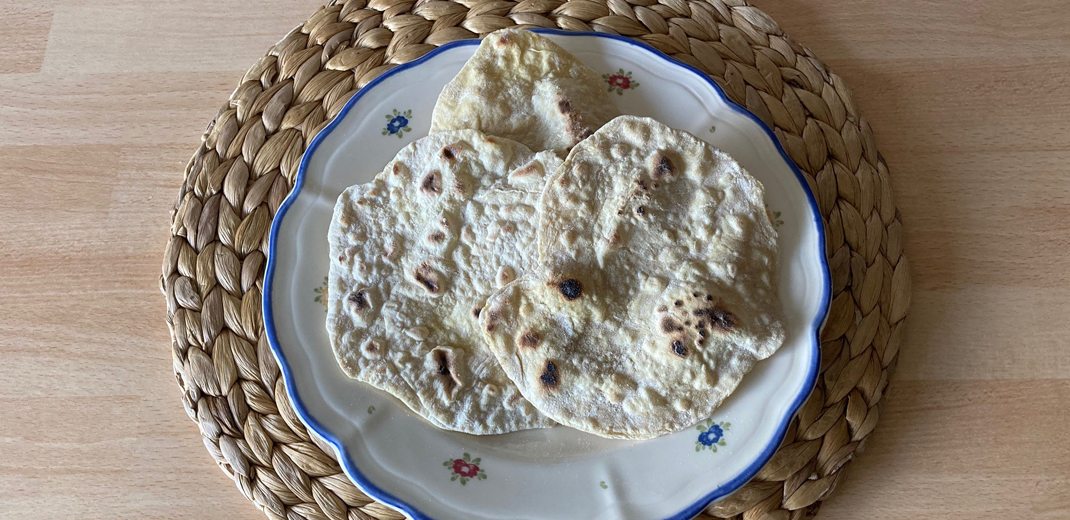 Chapati with normal spelled and wheat flour
Have fun copying and enjoy your meal