What are the best makeup brushes
The best make-up brushes are part of the basic equipment - a comparison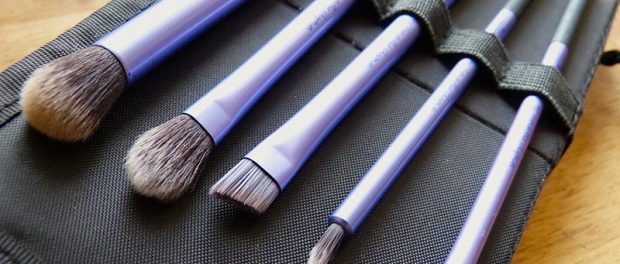 Best makeup brushes and brush sets 2021 - the comparison
Price includes VAT, plus shipping costs, if applicable. Prices shown here may have changed in the meantime. As an Amazon partner, I earn from qualified purchases. All statements without guarantee.
Brushes are the beauty tools of make-up. But which brushes do I actually need? And what for? Can I also misuse it? And should brushes be more expensive?
You can find out more about this in our brush comparison!
To answer the essential question in advance: No, we don't "need" brushes. But: they make our work much easier! You can easily and quickly create wonderful results such as seamless transitions in eye makeup or softly drawn skin with the help of foundation.
Make-up brushes in comparison
Which brushes make a good basic equipment?
This question is also quickly answered: all brushes for applying powdery textures, i.e. for classic eye make-up, mattifying powder and blush.
In my opinion, foundation can be easily spread with your fingers and worked into the skin. And even more concealer. Here I literally swear by the gentle tapping with my ring fingers. The warmth of the fingers is a great advantage, especially with liquid textures, because it allows foundation and concealer to literally melt into the skin and leaves behind an even, yet natural result.
Does it have to be MAC or are there cheaper alternatives?
If we stick with the skin, many girls use a mattifying powder over foundation and concealer - to hide shiny areas of combination skin and to "set" this base, i.e. to hold it in place.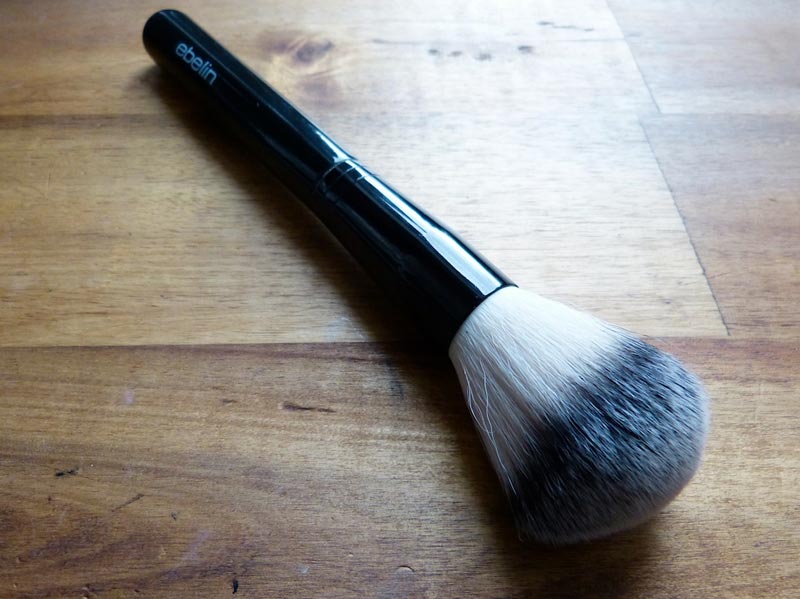 The Ebelin powder brush in comparison
Medium to large powder brushes are ideal for this. I like to use the Powder brush from Ebelin. It is soft, fluffy, does its job and has not lost any hair even after being washed several times. For about 4.95 € you can easily overlook the fact that the handle can come loose (I then stick it with superglue and the thing is done). All in all, the Ebelin powder brush is a really good and inexpensive brush from the drugstore.
For an expressive eye make-up, it should be a few more make-up brushes. The selection is almost infinite and can therefore also be expanded brush by brush (and depending on your wallet) over time. For your basic equipment, I would first recommend 4 brushes from the drugstore.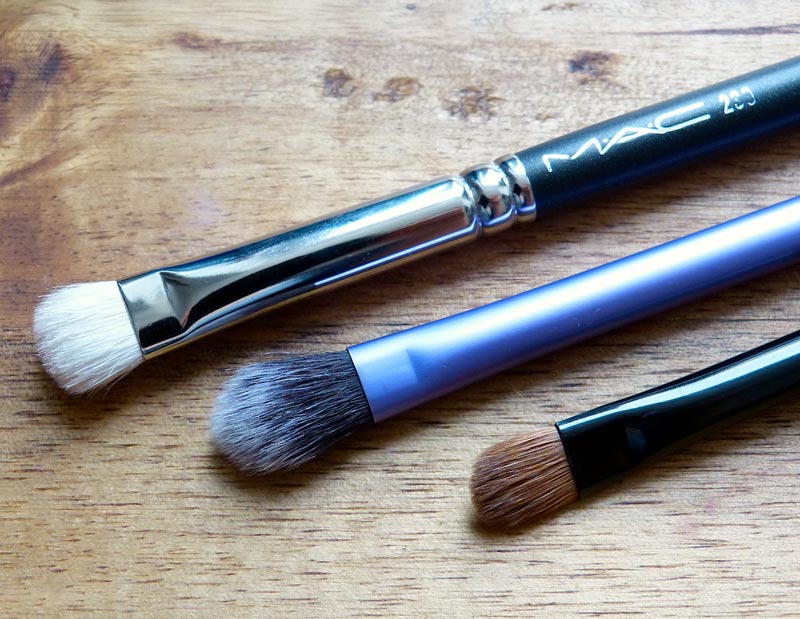 Make-up: Apply eyeshadow with the brushes: MAC 239 // Realtechniques Base Shadow Brush // Artdeco eyeshadow brush
There are no limits to how you can apply eyeshadow to the entire lid. Since I have the classic MAC 239 I also like to use it, but there are so many cheap alternatives! So I also love to access them Realtechniques Base Shadow Brush (only available in the starter set of 5 brushes for approx. 22 €) or the classic eyeshadow brush from Artdeco (approx. 6 €) back. But the local drugstore also offers the Essence Eyeshadow Brush a wonderful dupe to the MAC 237 for a scrap of the price!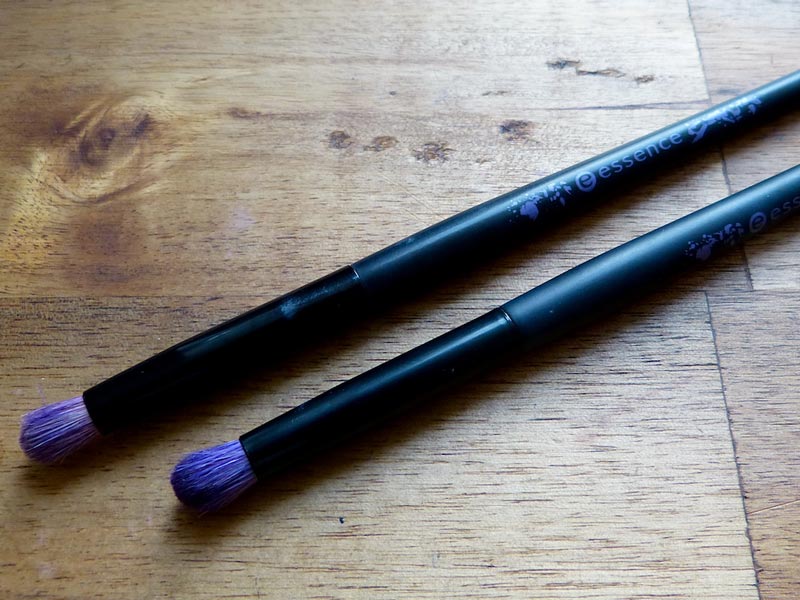 Makeup Brushes: Essence Smokey Eyes Brush
The Essence Smokey Eyes Brush is ideal for applying and blending eye shadow in the crease of the eyelid. Since it is quite small, it can also be used to apply eyeshadow to the lower lash line. For € 1.25 not only a bargain, but also a really good brush!
Catrice Geleyeliner Brush
Catrice Geleyeliner Brush: beveled side
Catrice Geleyeliner Brush: eyeliner brush
The Catrice Gel Eye Liner Brush is a double-sided brush and is available for around € 2.49 in all common drug stores. This little thing is a real multitasking talent. Geleyeliner can be applied wonderfully with the thin brush tip and the beveled brush side can be used to apply eyeshadow to the upper and lower lash line and to fill in the eyebrows. Great price-performance ratio.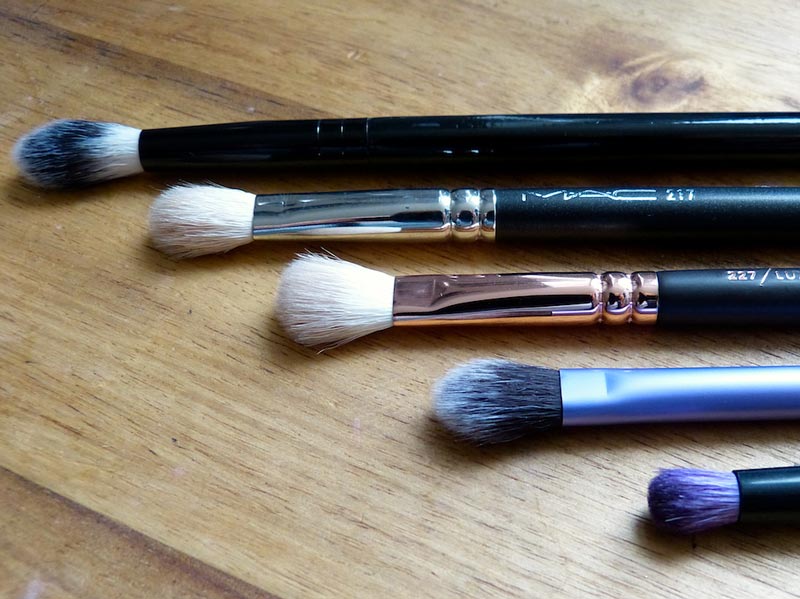 Side view: Ebelin Blendepinsel // MAC 217 // Zoeva 227 // RT Side view: Base Shadow // Essence Smokey Eye
Once we have applied our eyeshadow base color and any shades, we can do it Ebelin blender brush snap and (as the name suggests) fade away to create these beautiful, seamless transitions. To do this, simply move the clean blend brush gently back and forth at the corners of the eye make-up with a light hand, because the brush does the actual work all by itself!
In general, fluffy blend brushes are not only good for smoking out eye shadow, but are also ideal for working in concealer!
Blinding brushes are a dime a dozen. The known MAC 217 series was duped to no end, but not many of the imitation brushes come close to the result of the original. Zoeva has here with his 227 Luxe Soft Definer Although it produced a really great blend brush, for € 2.95 the Ebelin blend brush remains unbeatable value for money!
Here you can smuggle 2 or 3 of the treasures (dazzle, conceal, highlight, apply eye shadow over the entire lid ...) into your shopping cart Definitely the all-rounder among brushes!
Brush sets: are they any good?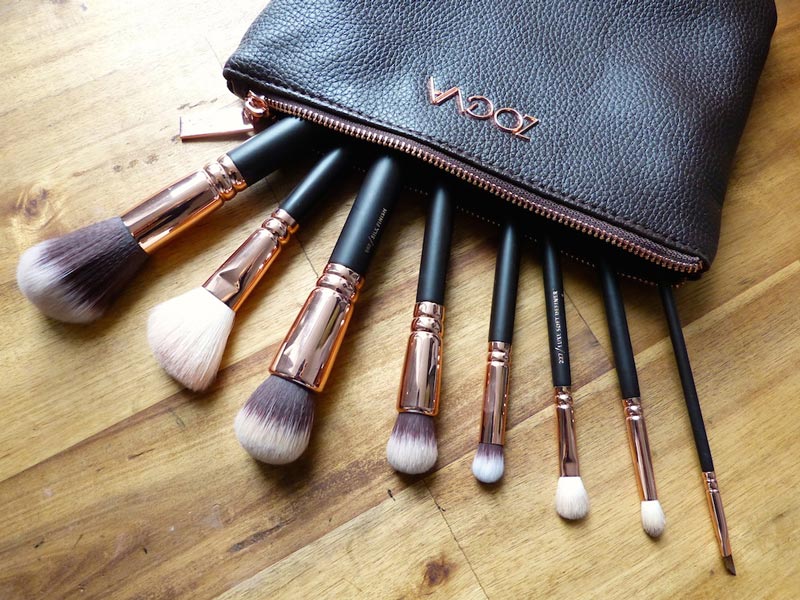 The brush set from Zoeva: Rosegolden Luxury Set. You get 8 high quality brushes
Probably the most talked about brush set on the market at the moment Zoeva with his Rose Golden Luxury Set. You get 8 high-quality brushes for about 58 €, nice to look at and they also create the right results. For me, this set (or the original version) is the perfect beginner brush set, because it offers every type of brush that you need for your basic equipment (and even more!) For an acceptable price: foundation, concealer, contour, powder , Blush, eyeshadow, blend and eyeliner / eyebrow brushes.
All in great quality and even with two bags!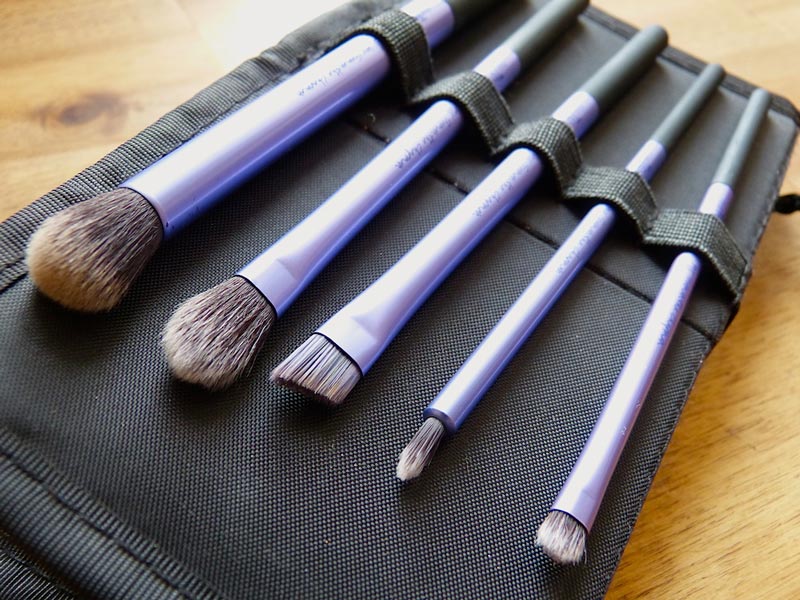 Realtechniques Starter Set: Deluxe Crease // Base Shadow // Brow // Pixelpoint // Accent
If this set is too expensive for you, or if you just want a couple of good eyeshadow brushes, I can do it Starter set ofRealtechniques (purple series) recommend. For about 22 € you get the Base Shadow Brush (for applying eyeshadow over the entire lid, but also good for blending), Pixel Point Eyeliner Brush (eyeliner, eyeshadow on the lower lash line), Brow Brush (for filling in the eyebrows or Contouring the nose), Accent Brush (crease, lower lash line, lips - a multitasking talent) and the Deluxe Crease Brush (blending work on the eye, but also great for incorporating concealer or applying highlighter).
The conclusion of our brush test:
There are wonderful brush sets that offer a lot of quality for little money; and in the drugstore there are really great alternatives to the expensive high-end brushes.
The biggest difference to high-end brushes is not necessarily just the final result, but the washing behavior. Many of the cheaper make-up brushes usually do not have the necessary brush hair quality to do their job nicely and also fray and hair out with every wash. I've been using the brushes presented here for about 1.5 years and I'm still very satisfied 🙂
But of course you sometimes want to treat yourself to something very special. And then you should take a closer look at the brush sets and the MAC 217 😉
More posts that might also interest you

Did my tips help you? If so, I look forward to your positive rating! Now click on "5 stars" on the far right. Thank you so much!





(
2
Rating (s), on average:
5,00
of 5)

Loading ...
* = Affiliate link