Why do the Calais migrants protest
Protest against "Jungle of Calais"
Around the port city of Calais, Monday morning did not start with the usual hustle and bustle. Anyone approaching the harbor only made progress at walking pace. On the important access roads to the English Channel, long-distance drivers drove their trucks extra slowly towards the port, farmers blocked important driveways with tractors. Their protest is directed against a problem that only becomes apparent at second glance - the "jungle of Calais".
On the site of a former landfill outside the city, people who want to enter the UK illegally have been gathering for years. According to official figures, there are 6,900 migrants, but aid organizations speak of more than 9,000 people. Many of them come from Afghanistan, Pakistan, Eritrea and Ethiopia.
Reports of attacks
For years the camp was more or less tolerated, but after more and more people tried to get through the port on ships or into the English Channel tunnel in the past year, the port operator had to react. In the meantime, security guards are securing the area, which means for the refugees that they have to find shelter in trucks in front of the port. The drivers report of migrants who attacked their vehicles with metal bars, of damaged goods and an overwhelmed police force who are unable to protect them.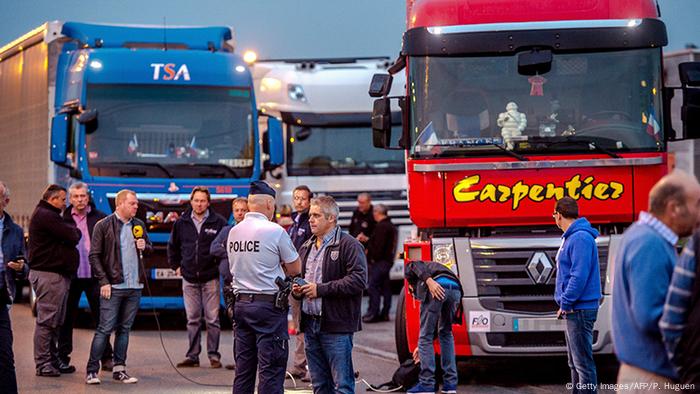 Truck drivers demonstrate for the dissolution of the refugee camp
But the freight forwarders are not the only ones suffering from the situation. In Calais itself, too, many residents have run out of patience. "We didn't get any answers, so now we're blocking the streets," said Frederic Van Gansbeke, who represents Calais' retailers. He speaks of high sales losses due to the camp. Many vacationers from the British Isles would no longer stop in Calais - because of the "jungle". He receives support in his protest not only from hundreds of fellow campaigners, but also from Mayor Natacha Bouchard, who also took part in the demonstration. She too feels abandoned by the government in Paris.
Interior Minister Bernard Cazeneuve was there again last Friday to get an idea of ​​the situation in the camp. He announced that he would gradually disband the illegal camp. To do this, however, more places would have to be created in the rest of France, said Cazeneuve. The government is doing it. Mayor Bouchart, who has already faced Paris several times, is doing too slowly. She fears that 15,000 people could soon be living in the camp if the government does not succeed in offering alternatives for accommodation as quickly as possible.
djo / stu (afp, dpa, rtr)