Did Boris Johnson really want Brexit?
Will Boris Johnson manage Brexit in 2020?
British Prime Minister Boris Johnson gathered Parliament behind him before Christmas. With a large majority, the House of Commons voted for the draft of its legislative text to allow the British to leave the European Union.
What are the next steps?
Johnson's plan has the backing of his own parliament and is very likely to be adopted by the European Parliament. This means that initial talks between the EU and Great Britain in February or March should be considered safe. At this point in time, the UK will already be in a transition phase of leaving. This starts on January 31st. Meanwhile, Great Britain remains in the EU internal market and in the customs union.
The transition period ends on December 31, 2020, unless both sides agree to extend it to 2021 or 2022. However, any extension must be approved by July 1st. However, this option could already be obsolete anyway, because Johnson has anchored in the legal text of the Brexit agreement that London cannot apply for a further deadline from the EU.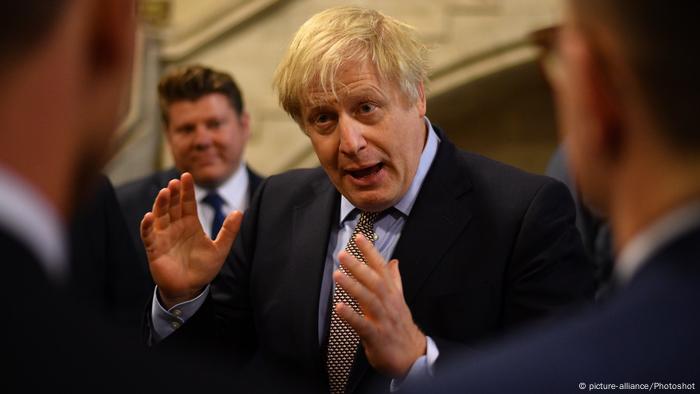 Boris Johnson can be certain of the support of his parliament
Risk of degraded standards
Johnson's stated goal is to completely change the relationship with the EU by January 2021. It is more of a symbolic politics with him. In principle, it seems to be about increasing the pressure on the EU to move forward with a trade agreement. However, Johnson has so far not been able to resolve the contradiction in terms of how he wants to push through a comprehensive trade agreement including financial services and tariffs on the one hand, while deviating from EU directives on the other.
"The EU will insist that everything happens on an equal footing. This includes, for example, employee rights, environmental protection, taxes and state aid. The main concern of the EU is that the UK could gain competitive advantages by disregarding EU standards," says Oliver Patel, director of the institute and research assistant at the "UCL European Institute" in London. "What there will probably not be a comprehensive agreement that resolves the free movement of goods and services."
Boris Johnson appears to be unimpressed by Brussels' red lines. The new Brexit bill has deleted commitments to EU standards for workers' rights. The willingness to accept unaccompanied minor refugees from Europe has also been watered down. In addition, a new immigration law provides that EU citizens "undergo the same immigration checks as non-EU citizens". Such a change would be the end of so-called free movement, which many believe is one of the EU's greatest achievements.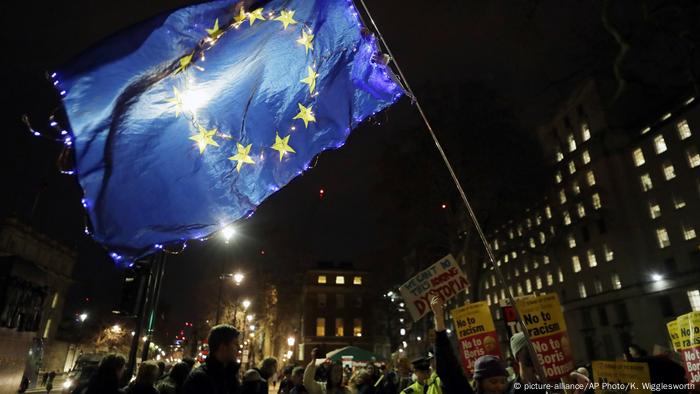 Pro-European protesters in London in mid-December
The new law also includes that Northern Ireland should remain in the UK's customs territory. However, this would result in a de facto customs border between the British province and the mainland. Because goods that arrive and remain in Northern Ireland from non-EU countries are subject to British customs regulations. However, those goods that are transported further towards the EU and thereby pass through the Republic of Ireland fell under the legal system of the EU.
Intense negotiation
EU chief negotiator Michel Barnier has stated that he wants to clarify fundamental issues quickly. This included duty-free and quota-free trade in goods - a measure that could be implemented without the consent of national parliaments.
Boris Johnson, however, faces a dilemma. He has to decide: If he wants to push for a comprehensive agreement that covers everything from security, data, aviation, education, fishing to civil rights - that would take years, however. Or does he want to secure a stripped-down deal that is limited to the export of goods, especially cars and agriculture, without tariffs and quotas.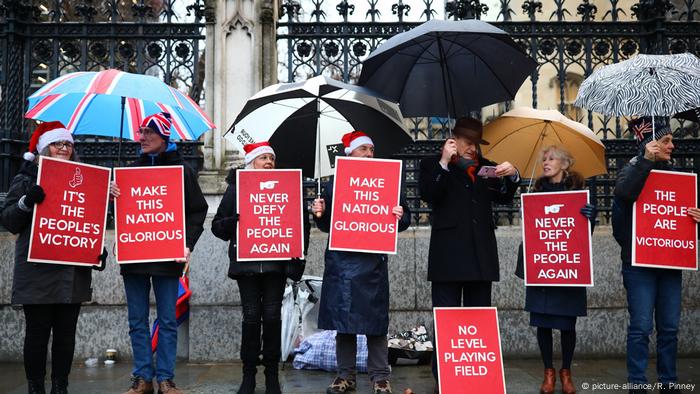 Brexit supporters in front of the British Parliament
One hears from Downing Street that Johnson is concentrating on exactly that agreement, modeled on the EU-Canada deal - without a customs union or internal market - and wants to negotiate it by the end of next year. The focus of this agreement would be trade in goods, not services - although the UK economy is very dependent on it. However, according to Patel, this is no longer the main focus of the British government. "If you wanted a good deal on services, you wouldn't have left the EU," said Patel. "Or, if you were to leave the EU, you would at least stay in the internal market."
Hard Brexit is still possible
To make it clear: The EU-Canada Agreement (CETA) was negotiated for seven years. The talks around the agreement with the Mercosur states (Brazil, Argentina, Paraguay and Uruguay) lasted intermittently for twenty years. If Johnson fails to negotiate an agreement with the EU and at the same time refuses to negotiate beyond his own deadline, it could lead to a hard Brexit.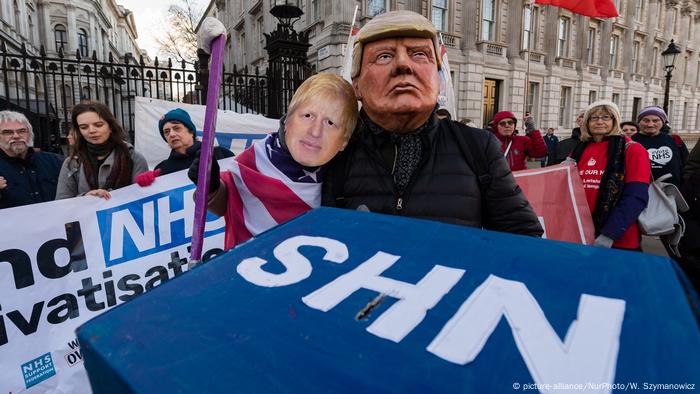 Protesters wear Johnson and Trump masks to draw attention to the dangers of a Brexit for the health sector
In view of this, Johnson peered across the pond. He has repeatedly stated that a deal with the US is child's play, also because of a "special relationship" with Washington. However, this has not only lost its shine, there are also very tangible concerns. "Great Britain cannot sign contracts while it is in the transition phase," says Patel. "In addition, other countries will have no interest in deals with the UK until it is clear what agreement Johnson has reached with the EU."
Pressure on trade standards
Patel also believes that the warm words President Trump may have sent out don't have much in common with reality. "The US Department of Commerce's primary goal is to find the best deal they can get. And that will take little account of Britain's interests."
The US will prioritize its own interests. Just like the other big trading partners like China, India or Japan. The UK could therefore eagerly negotiate a lucrative deal and set dangerous trade standards, says Patel. "It could be food safety or the pharmaceutical industry. The US obviously wants better access to British markets and that means Great Britain has to lower or change its own standards in many areas."