The return of globalization
An inconspicuous German biotech company, founded by Turkish-born scientists, attracts the investment of a Chinese conglomerate and connects with a US pharmaceutical giant, whose managing director is Greek. Together they produce the most longed-for and most important product of the year: the corona vaccine.
The BioNTech-Pfizer vaccine and the other vaccines that were and are being developed in record time - they seem like a response to criticism from anti-globalists. They had declared international trade and cooperation dead at the height of the pandemic.
There were apparently good reasons for this: The virus interrupted global supply chains, shut down factories and briefly emptied supermarket shelves. In many countries, the supply of essential medical supplies was even stalled. The corona crisis made it clear how much companies and governments have relied on the global value and supply chains, which are largely dominated by China. Many prophesied the end of the global division of labor and a relocation of production back to the target markets.
China is setting the pace again
Months later there are hardly any signs of so-called "reshoring". On the contrary: world trade is experiencing a fresh upturn. Leading the way is also the controversial model child of globalization: China. The world's second largest economy is currently benefiting from an increased demand for protective equipment and technology products for the home office.
There is a realization that "trade offers a very helpful and efficient solution to the challenges that these types of crises pose," said chief economist of the World Trade Organization (WTO), Robert Koopman, to DW. "Countries recognize that having diverse supply chains is a good thing." You can also solve problems by accessing the skills and know-how of other countries.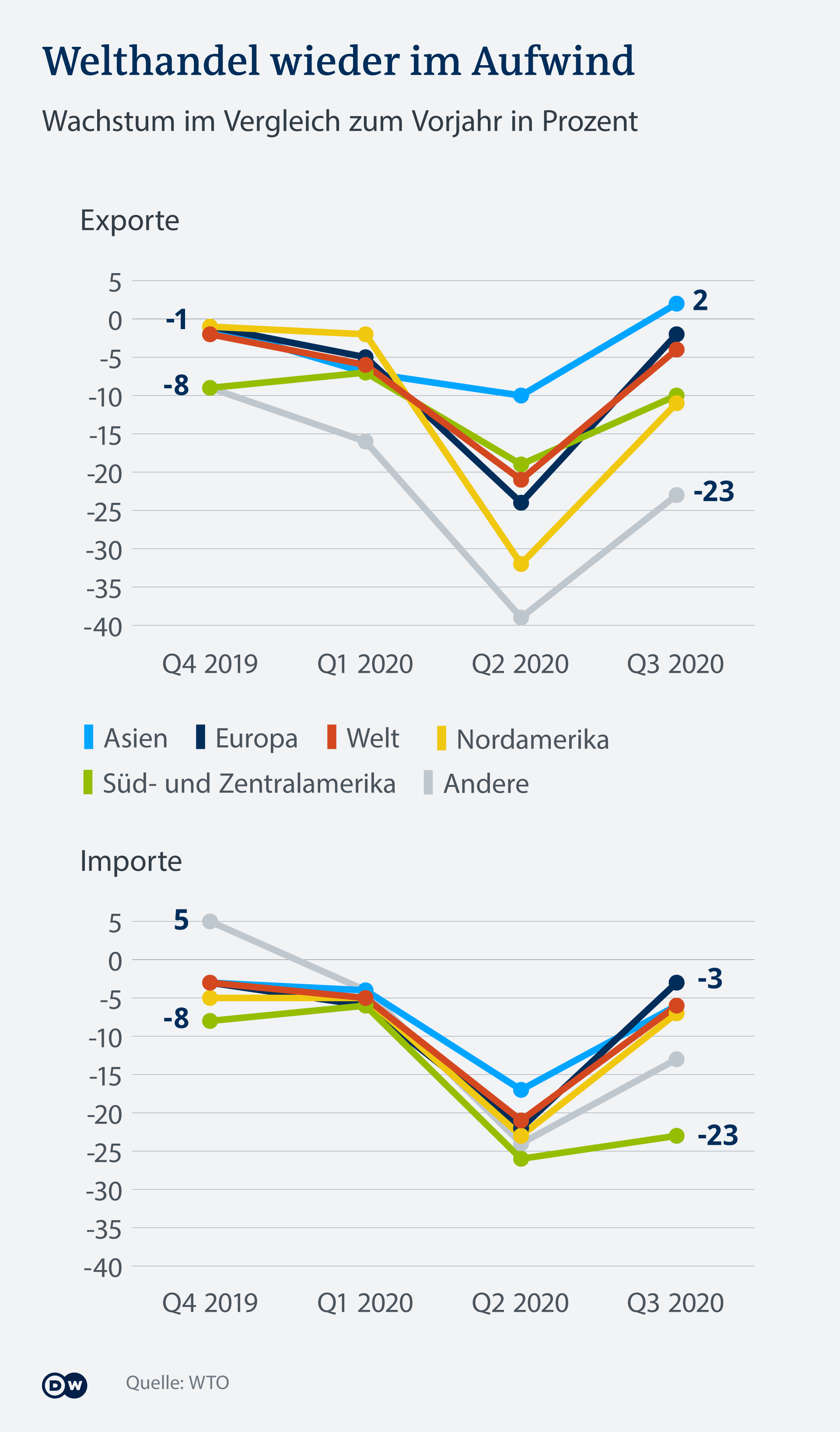 The WTO expects global trade in goods to decline by just over nine percent this year, followed by an increase of around seven percent next year. In April, the WTO had forecast a slump of up to 32 percent for 2020. The sharp recovery means that the pandemic's impact on trade compared to gross domestic product will be far less than it was during the global financial crisis of 2008-2009.
Supply chain resilience as a new trend?
While critics of globalization may have been premature with their dire predictions, the pandemic has also shown the vulnerability of companies if they fail to keep a proper eye on their suppliers.
Supply chain experts suspect that companies could now make their value creation more resilient - i.e. more resilient. To do this, they stock up on stocks, look for suppliers who are closer to target markets, and make better use of data and new technologies to analyze the entire spectrum of supply chains and customers more precisely.
However, many experts currently see hardly any dismantling of production in the target markets - probably also because the value chains are extremely complex. A single international company can have thousands of independent suppliers. Bundling these in one region can have significantly greater consequences in the event of environmental disasters such as cyclones, forest fires or droughts.
"Reshoring is costly. Resources are limited, and when activities are brought back, resources are shifted to areas where they are unlikely to be used well," says Koopman. Even if it might make a certain sense to prepare for the next pandemic or crisis. "The problem is that you don't know what the next crisis might be."
The heyday of globalization
Between 1990 and 2005 globalization reached a peak. International trade grew twice as fast as global GDP. This development was supported by the opening up of the economy in China, India and Europe, the establishment of the WTO and the promotion of regional trade agreements.
But the momentum has run out in recent years. Some economists are therefore already talking about "globalization". Above all, the criticism of the unequal distribution of the fruits of globalization slowed down. Trade expert Koopman expects trade to pick up further once the pandemic is under control and economies recover. China, which posted a record trade surplus in November, is likely to continue to see strong global demand for its goods. However, the role of the People's Republic as a world factory could diminish somewhat in the next five to ten years.
The shocks caused by the pandemic are expected to result in companies tapping into new sources of supply in addition to China. This trend could be observed even before the corona virus and was mainly due to the tensions between the USA and China and increased wage costs in the People's Republic.
Cost pressure versus sustainability
Many experts assume that consumers will continue to want low prices and that companies are looking primarily at high profit margins. "I would like to say we will come back cleaner, we will come back greener, we will come back with a little less focus on cutting costs. But the problem is that people are expected to pay extra for it," says Deborah Elms, general manager of the Asian Trade Center. So the question arises as to whether companies and consumers in the world after Corona are ready to spend more money than they are now?
Elms assumes that companies stricken by the pandemic will concentrate even more on keeping their costs under control in the future. But it will hardly be the efficiency frenzy that was observed between 1990 and 2005. Back then, companies largely ignored any risk in order to maximize their profits.
But the still simmering trade war between the USA and China and the lessons of the pandemic will make companies more prudent. An emergency plan for the risks of global value creation is necessary. At the same time, companies will still try to reduce costs.
"The result is what I call reglobalization," said WTO chief economist Robert Koopman. "It's actually a reorganization of globalization where risk is more important than just efficiency."
Protectionism as a corona legacy
At the same time, globalization could be pushed back further in strategic sectors such as pharmaceuticals, mining and technology. The corona crisis has destroyed millions of jobs - door and gate for some governments to score points with the population with protectionist trade approaches.
The managing director of the Asian Trade Center, Deborah Elms, expects more protectionism in the distribution of vaccines and food - should the pandemic continue for a long time. "Countries that had a tendency towards protectionism now have a license to practice super-protectionism."
Adapted from English