What's the best dosa you've ever eaten
Alexandra is a real foodie and she is particularly fond of Indian dishes from the south of the country. Whether snacks on the roadside, curries in homestays or sweets on the train. She reports so vividly that your mouth will water immediately. So be careful, we strongly advise against reading this article on your stomach grumbling with hunger! If you'd rather start planning your trip right away, write to us and we'll help you put together a culinary and varied trip through South India!
"Khana Khaya?" - "Oota Aytha?" - "Javan Jale". This question is heard almost more often in India than "How are you?" Khana, Oota or Javan. Vocabulary that you should definitely remember. Eat. "Have you already eaten today?" Regardless of whether you have a lot or little money in your wallet, whether you can once again only serve rice and daal to the family or nurture your belly of prosperity with a 5-course menu in a chic metropolitan restaurant - food is one of the focal points of the Indian everyday life.
Indian dishes are so well-known and popular with us for a reason. The Indian likes to eat for his life, and he likes to and often. The good housewife is busy all day long looking for the freshest vegetables in the market, pounding spices and preparing a warm meal for the extended family. Not just once, but at least three times a day. Because an evening snack with just a sandwich is something you don't know in India.
Sometimes the kitchen stays cold and the whole family is packed up - for a visit to one of the "family restaurants" that can be found mainly along the national highways and on the access roads to the villages. When time is short, you can just snack on the street. Because in India there is everything your heart desires from early in the morning until late in the evening. Steaming hot masala chai. It always works. Just like fried food, whether hearty or sweet.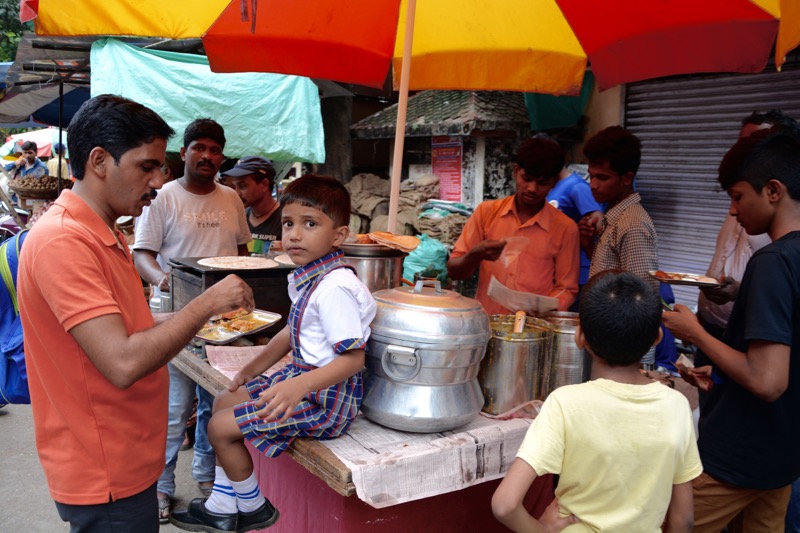 The street stalls in Mumbai are always well attended, no matter what time of day - a snack in between is always possible! Photo: Alexandra Lattek
As diverse as the regional customs and traditions of the multiethnic state are, the cuisine of the country is just as diverse and regionally different - just like every Indian dish itself. The north, strongly influenced by the Mughal cuisine, likes it meaty, rich and creamy. The Punjabi would prefer to eat butter chicken every day, the Lucknower swears by his hearty lamb curry based on recipes from the royal nawabs. Even in summer temperatures, they would not swap their hearty meal for something green for anything in the world.
The people in the south are different. They love it lighter and fresher. And sharper. No wonder, because pepper grows in the tropical south. And loads of vegetables. And coconuts. Plus a lot of fish and seafood in the coastal regions. Then there are the side dishes. What is the white sausage equator in Germany is the border between rice eaters and bread eaters in India. The north loves bread in all variations - naan, chapati, roti, pappadam. In the south, rice is the main side dish.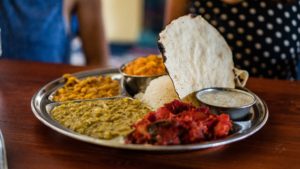 The Indian thali, a dish with a selection of different curries, vegetables, rice and bread, is available in both the north and the south (Credit: Lior Shapira - Unsplash)
Of course you can also find creamy meat curries on the menu in the south of the country. And chapati. And dishes from the tandoori oven. Just like spaghetti frutti die mare. At least in the tourist places. During the four weeks of my adventure through the south of the country, I also ate Indian dishes from the Mughal cuisine more often, albeit mostly as a vegetarian variant with paneer, a type of cottage cheese. And I hardly dare to say: In Bangalore I had a beefburger in the Hard Rock Café and when we arrived in Pune late at night I had a portion of tagliatelle with aurora sauce and mushrooms from the Italian next door. Otherwise, I tried out the peculiarities of the local kitchens. So here are my top 5 tips on which culinary highlights (of course, exclusively Indian dishes) you shouldn't miss on a trip through the south!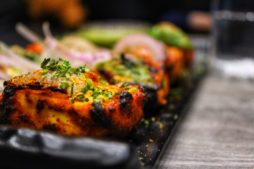 Much of the food on Indian plates comes straight from the grill (Credit: Ankit Sinha - Unsplash)
Must-do # 1: Try the street food in Bombay
When I arrived in Bombay at the beginning of the trip at the beginning of September, one thing struck me in particular - that someone is crouching or standing and cooking on every street corner. On a small gas stove on the floor. On a cart that has been fitted with a hotplate. Or at a fixed stand. I am learning: The Mumbaikar loves street food. No matter whether you are poor or rich, whether you are wearing a suit or driving one of the black and yellow taxis. A snack on the street is part of the lifestyle in the megacity on the Arabian Sea. Some say the street food is even better than the expensive restaurants on Marine Drive.
One of the most popular dishes to eat at any time of the day is bhel puri - a crispy, sweet and sour affair made from puffed rice, onions, potatoes and a tamarind chutney. Each dealer has its own variation. Bhel Puri is eaten cold and is actually a typical beach meal that you eat while walking on Chowpatty or Juhu Beach. But even for the long way home to one of the suburbs of Bombay after work, people like to take a portion with them. At least that's the case with the young woman I'm standing next to one evening on the suburban train to Andheri East. Bhel Puri is served in a bag made of newspaper, even the "spoon" is made of newspaper. Of course, you can't lick it off, it's more like a shovel.
Much easier to eat than Bhel Puri from the newspaper bag are the Bombay burgers - maybe not the first thing that comes to mind when you think of "Indian dishes". But these become Indian through the most diverse variations on every street corner! Between a roll or two slices of toast, the vada pav comes close to a potato patty and makes the burger a unique snack together with spicy garlic chutney. So: No kissing after enjoying a Vada Pav!
Street vendors like to get creative and take pride in their creations
You can't leave Bombay without trying one thing: Pav Bhaji. Classically a typical street food. But there are a number of restaurants that have taken advantage of the Mumbaikar's love for street food and offer Indian dishes such as Pav Bhaji in a place with tables to sit on. Like the Sukh Sagar in Chowpatty, which I went to for dinner with Harsh from India Someday on the first evening. I was still full from lunch, but when the two plates of Pav Bhaji were in front of us, I couldn't help but slam the fluffy, buttery rolls with the spicy vegetable curry Ratzeputz. Pav Bhaji comes in all sorts of variations - with cauliflower, beans, peas, with cheese, without cheese, spicy, less spicy or even a Jain version without onions.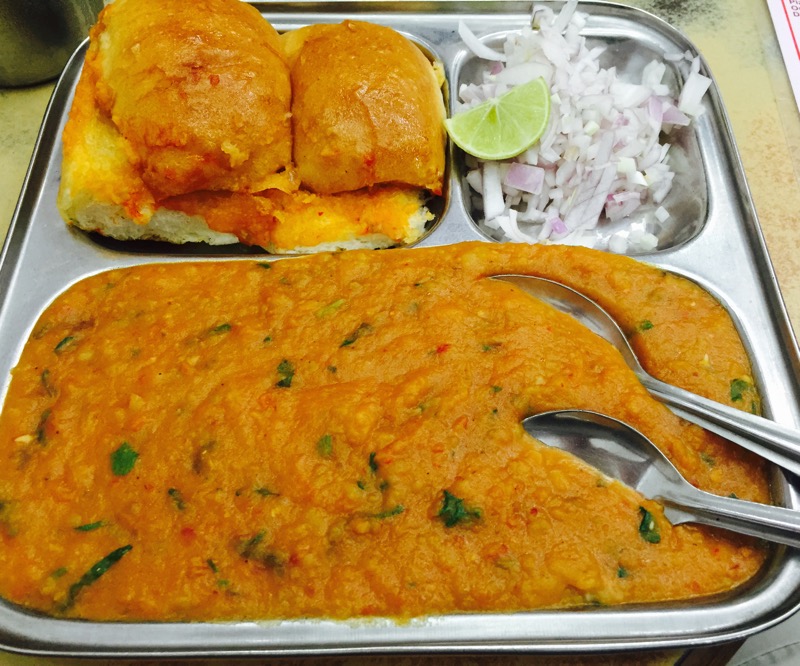 Pav Bhaji is the Mumbai dish par excellence! Photo: Alexandra Lattek
Another street food classic that you absolutely have to try are the light brown balls, which I always wondered what exactly it was. Pani Poori, a strange name because it translates as "water in fried bread". When I visit Swati in the Tardeo district - apparently an "in place" for street food sitting down, because we have to wait half an hour for our table - I learn: The shell, "Poori", is filled with spicy pieces of potato and then into one watery sauce, so "Pani", dipped. We order a plate with several sauces, from red-ketchup to green-minty, and a few chickpeas with coriander. Very fine!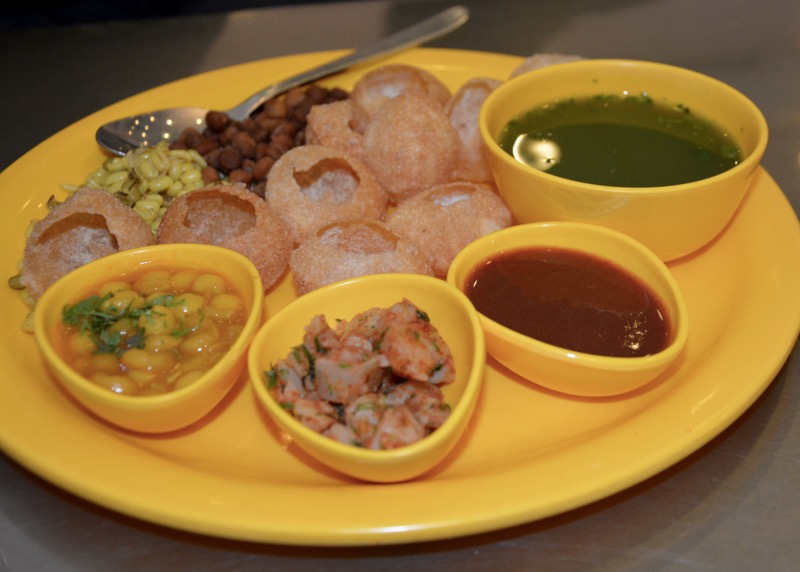 The poori must be eaten in one bite, otherwise the pani will run out. Photo: Alexandra Lattek
Must-do # 2: Start the day with Dosa, Idli and Appam
While the stressed Westerner often rushes to the office without breakfast, the Indian fills his stomach with a decent, mostly hearty foundation in the morning. For me as a muesli fanatic, it was initially an overcoming. Especially at an early hour, my stomach doesn't really want to get used to eating something spicy and hearty. But it is well known that you get used to everything and so I also enjoyed breakfasting real Indian dishes in the places where I had to go without my muesli.
My favorite was Appam. Because this dish is sweet - a wafer-thin flat cake made from fermented rice flour, coconut milk and sugar. The white round is thin like parchment paper on the outside and very crispy, towards the middle it becomes softer and a little thicker. I made it even sweeter by drizzling it with coconut milk and enjoying it with fresh fruit. An absolute highlight that can be found especially in Tamil Nadu and Kerala.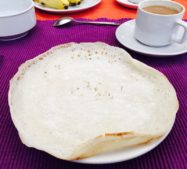 Together with chai and fruits, appam is my breakfast favorite
My second favorite South Indian breakfast are dosas, preferably in the spicier version with masala, i.e. masala dosa. Dosas consist of a batter made of fermented rice and black lentils and are baked like appam as wafer-thin flat cakes, but slightly larger, crispy. The potato filling (i.e. the masala) - a delight. I don't really need the coconut chutney that is served with it, masala dosa is so tasty in itself. I had the best Masala Dosa in Mysore and Aurangabad!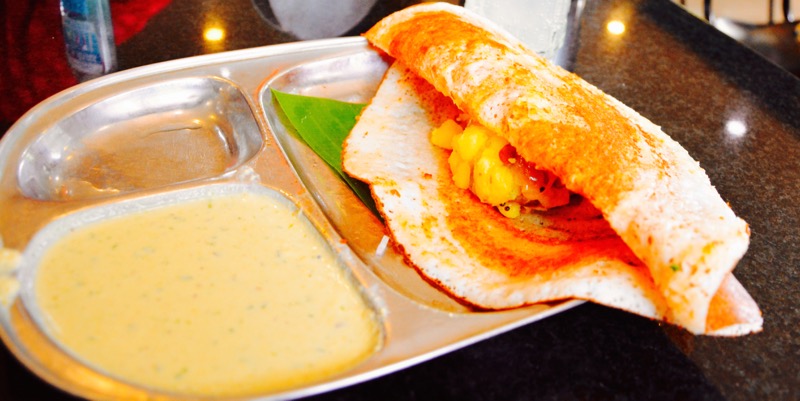 Masala Dosa is an absolute must to try! It is often served with coconut chutney and sambar, a tomato sauce. Photo: Alexandra Lattek
Inconspicuous, pale and wobbly, what is that? I thought when the flat, steamed lentil rice cakes called Idli first landed on my plate. But how should I be mistaken! Because together with the creamy, thick coconut chutney, they taste great. And fill you up. Alternatively, they are served with a sambar, for example in my homestays in the backwaters or in Fort Kochi. Sambar is a kind of tomato and lentil soup that is prepared with tamarind and various spices and, depending on your mood, can be pepped up with one or the other type of vegetable.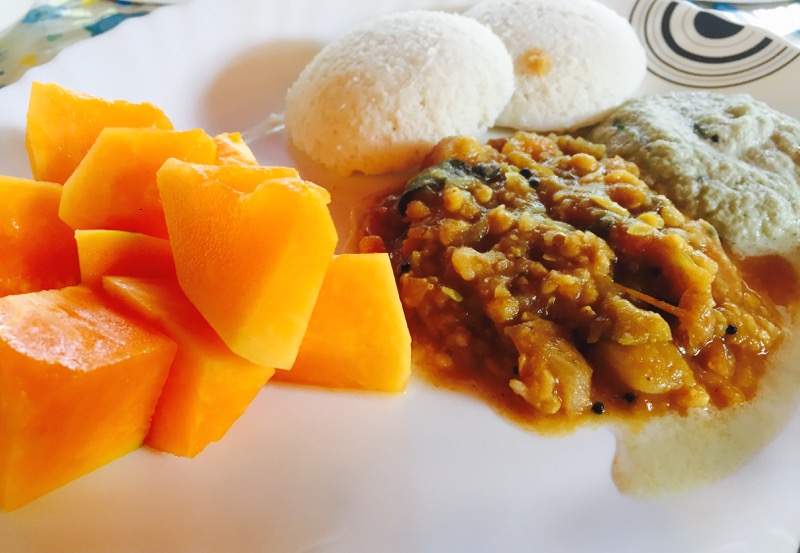 Idli is also an absolute breakfast classic in the south and looks more than what you might expect. Photo: Alexandra Lattek
Must-do # 3: "Kuch meetha ho jaaye!" - Let's nibble something sweet!
The Indians love it sweet. Very cute. It starts with tea, which is traditionally made with a lot of sugar, and ends with desserts. Yes, let's nibble something sweet, was also the motto of my fellow blogger Ami and me, as in the Bollywood flick of the same name "Kuch meetha ho jaaye!". Saffron, almonds, walnuts, pistachios, cardamom, rose water - these ingredients sound heavenly to western ears, like in 1001 nights. We try our way through the various desserts that are prepared with these precious ingredients, mostly with thickened milk, ghee and sugar. Much sugar. Too much sugar. As much as I like sweets - I'm already looking forward to the chocolate muffin that awaits me back in Germany - I can only enjoy Indian sweets in homeophatic tins. Otherwise there is a risk of a sugar shock.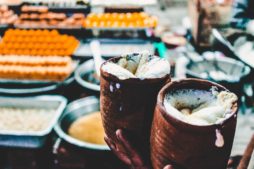 Often the Indian sweets are attractively lined up in delicious colors (Credit: Tiago Rosado - Unsplash)
But consumed in moderation, you should definitely try them, the South Indian, sweet temptations. One of them is falooda, a combination of vermicilli pasta, rose water flavored milk, and tapioca pearls. Falooda is an absolute hit in Mumbai. A favorite for young and old is Payasam, a kind of rice pudding that is prepared in the sweet version with cashew nuts and raisins. And with a lot of coconut milk. I like to do without the raisins, otherwise definitely a culinary delight. In Mysore you have to try the cube-like "Mysore Pak", a mixture of ghee, sugar, chickpea flour and cardamom, which is especially enjoyed in large quantities at festivities such as Dassara.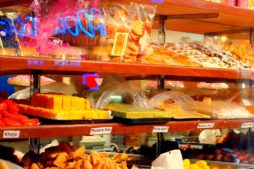 The nice thing about Indian bakeries is that you can often try as you like before buying something (Credit: paperingasmile - Flickr)
My favorites are kulfi, which is cardamom or pistachio flavored ice cream, and gulab jamun. These milk-based balls baked in oil are also available in the north of the country. In the south there is a modified variant, Uni Appam or Karollappam. These balls are made from rice, jaggery, bananas, toasted coconut pieces, sesame seeds, and cardamom powder. Incidentally, the batter of the white breakfast idli is often used in southern India for something sweet - paniyaram. Just add a little jaggery, coconut and cardamom and the dessert for afternoon tea is ready. Other typical desserts and sweets such as Jalebi, the orange-colored small fried pretzels made from syrup, are also known in other Asian countries as well as in the Middle East and North Africa. Just like Halwa.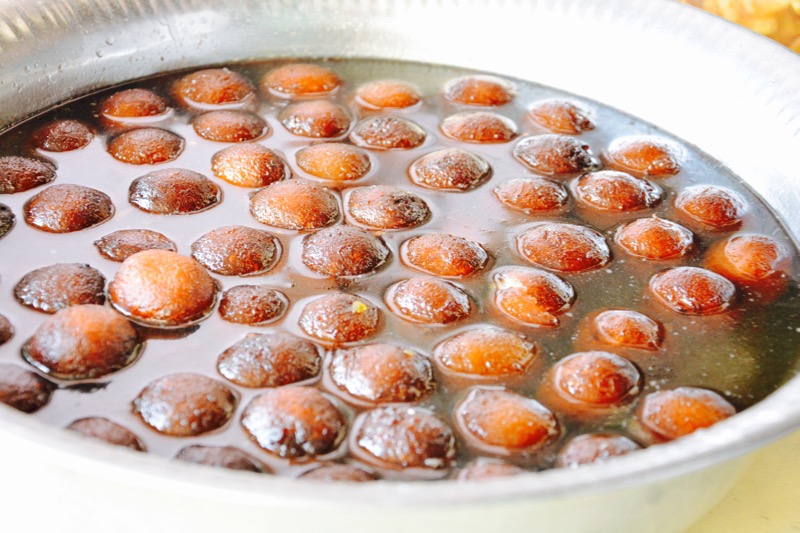 Gulab Jammun is probably one of the most famous sweets - with rose water it gets a very unmistakable taste
Must-do # 4: The Coconut from Kerala. With a lot of cardamom. And fish.
Who has the coconut, who has the coconut, who stole the coconut? What stirs the monkey gang in the jungle cannot irritate anyone in Kerala. Because the ripe, round something with the long, brown hair and the scratchy exterior, which in German supermarkets mostly ekes a rather unnoticed existence, is in abundance in Kerala, thanks to the year-round tropical temperatures. Whether grated, roasted, as fresh pulp, as milk or as a paste, whether for breakfast as a filling for an Indian pancake (very delicious !!!) or for dinner with vegetables - in Kerala the cuisine is dictated by the coconut, hence Indian ones Dishes that are prepared with coconut should be located in the south!
If the coconut is the queen of the kitchen in Kerala, then the cardamom pod sits next to it on the throne. The white and green gold of Kerala, so to speak, whereby cardamom is a bit trickier than coconut and significantly more expensive. In Munnar I could see how laborious the harvest is. Kerala is the spice garden of India, not only cardamom is harvested here, but also cloves, ginger, cinnamon, nutmegs, vanilla, turmeric, tamarind and allspice. This is of course reflected in the kitchen, which is much more refined than the curries of the north, which are mainly creamy.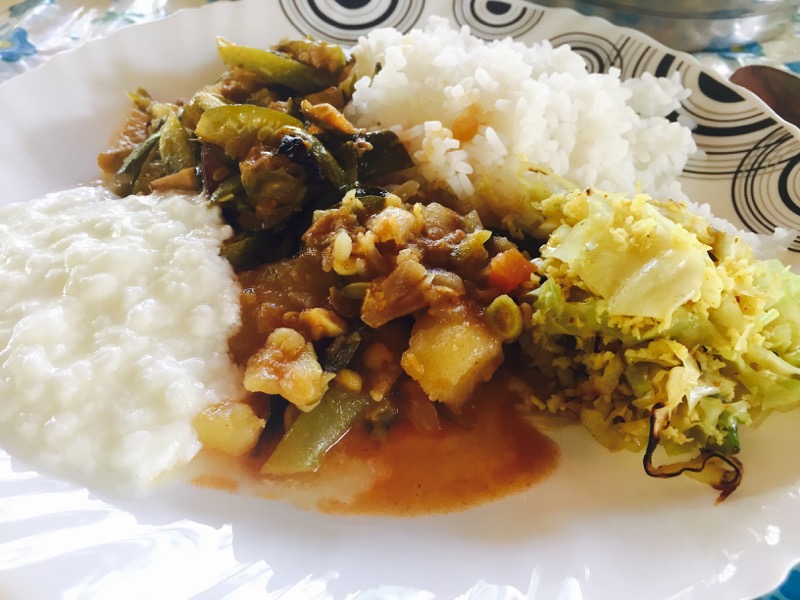 The many spices give the dishes an exciting range of different tastes
In Kerala you can eat wonderfully vegetarian - everything with a light coconut flavor - but there is also meat on the table and especially fish. Because not only are there all kinds of fish and shellfish in front of the Malabar coast, the backwaters are also rich in these animals. The "signature dish" from Kerala is, by the way, a curry with crabs - seasoned with fenugreek and fennel seeds and black mustard seeds. And of course coconut milk and green chilli. The crabs are marinated beforehand. Often a mango is added to round off the spice with a fruity taste. I ate the best fish in Kerala in Fort Kochi at "Oceanos". The recipes for fish in coconut come from the Syrian Christians who once settled off the coast of Kerala. It also goes back to her that in Kerala, in addition to the many vegetables, meat is often on the table.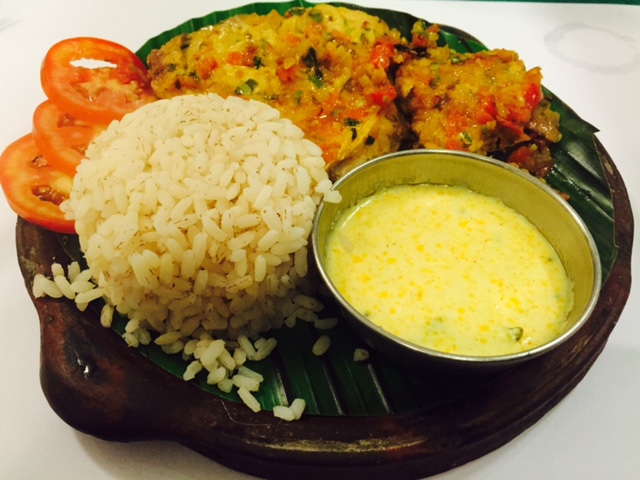 What you will also often experience: in South India many dishes are served on banana leaves
Must-do # 5: The Chettiar Chicken and Tamil Nadu Seasoning
My visit to South India coincided with the Oktoberfest, which was of course a dilemma for me as a Munich child who traveled here. But I didn't have to go without beer or chicken in India. In Tamil Nadu I got an adequate alternative to my obligatory Oktoberfest chicken filled with parsley. More precisely in Chettinad, with Michel and Bernard in the Saratha Vilas. Even though the area around Karaikudi is known for its vegetarian cuisine and dishes such as idiyappam, Uthappam and paal paniyaram, the people here enjoy eating chicken and mutton. I don't like mutton that much, but I love the Indian dish chicken chettinad. A classic that I often come across on the menu in Pondicherry, which is influenced by French.
Like their neighbors in Kerala, the Chettiar were big numbers in the spice trade. No wonder Chettinad's cuisine is also famous for its rich use of spices.Chicken Chettinad is said to be prepared in its original form with 28 different spices, including dried red chillies, sesame and fennel seeds, cumin and black pepper, all made into a paste. I cannot say whether the cook used 28 spices in the Saratha Vilas. I just know - his Chicken Chettinad was a poem. That's why I leave every Oktoberfest chicken there!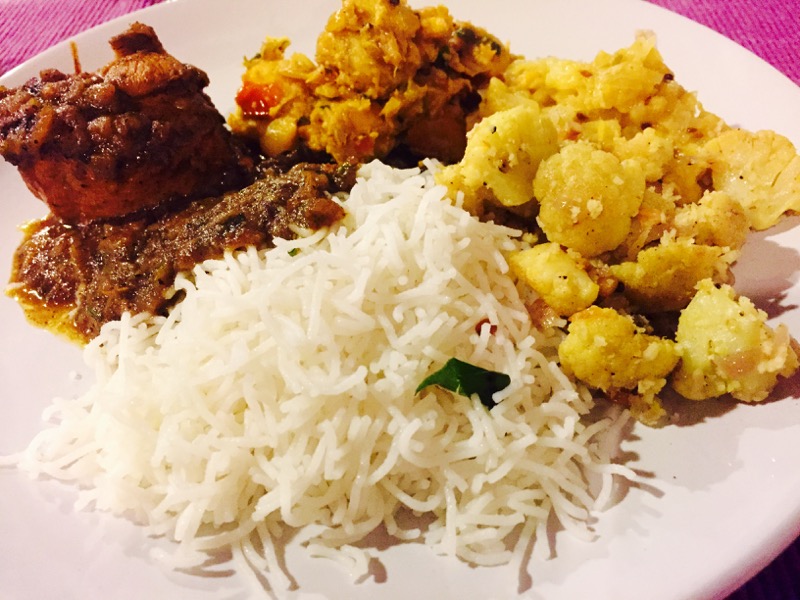 Together with rice as it should be in the south, I couldn't get enough of the chicken chettinad
So now I'm hungry. I'll see if I can find something in my Indian cookbooks that I can cook tonight. Then maybe the cardamom capsules will finally be used, which I bought in the Spice Bazaar in Fort Kochi and carried around with me in my backpack for almost three months.
If you don't just want to cook Indian, but also want to enjoy Indian dishes on site, write to us and we will help you plan an exciting culinary trip to India!