Cambodia commemorates the dead of Pol Pot's reign of terror
"40 years ago Pol Pot turned Cambodia into a hell, a ghost land," said 67-year-old survivor Huot Huorn, describing the takeover of the Khmer Rouge. At the Choeung Ek memorial, better known as "Killing Fields", near the capital Phnom Penh, several hundred people have gathered to commemorate the numerous victims of the tyranny. A year after the fall of the Khmer Rouge in 1979, a mass grave with the bodies of around 9,000 people was discovered in the area of ​​today's memorial.
"The hardest thing is to forgive"
The memorial ceremony was organized by the opposition "National Rescue Party" CNRP. Buddhist monks, survivors and others in attendance prayed in front of a Buddhist stupa containing the skulls of thousands of victims. The purpose of this ceremony is "never to forget", but also to forgive, explained parliamentarian Mu Sochua. "The hardest thing is to forgive that it was so well planned, your genocide, it was man-made and calculated, you saw it coming," she told the German press agency. Mu Sochua's parents disappeared under the regime.
On April 17, 1975, the Khmer Rouge invaded Phnom Penh. The communist guerrilla army had overthrown Republican President Lon Nol and ended an eight-year bloody civil war. The joy of the residents about the supposed liberation only lasted for a short time. Because on the same day, the movement under Pol Pot ordered that the population must completely evacuate the city of two million. It was the beginning of an agrarian revolution, which ended with the radical communist utopia of a peasant state.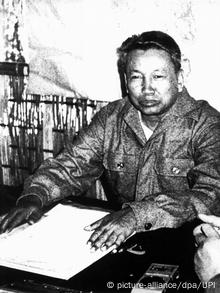 Pol Pot's radical ideas were responsible for the horror in Cambodia
Deadly ideology of the Khmer Rouge
Numerous people died during the forced march out of the city. What followed was an unprecedented reign of terror. Under their leader Pol Pot, known as Brother Number One, the Khmer Rouge raged uncompromisingly and paranoidly. In total, up to two million people fell victim to the regime. They died of starvation, exhaustion, torture and the consequences of forced labor or were killed in the "killing fields". The intellectual elite of Cambodia was to be wiped out and the rest of the population radically re-educated. After three years, the Khmer Rouge was defeated and driven out in 1979 with the help of Vietnamese troops.
nin / kle (dpa, afpe)